One of the application developed with PLC S7-300 and WinCC ( Courtesy of Siemens branch in Sarajevo )as HMI/SCADA software has implemented the multivariable control system involving pilot plant with three tanks interconnected with pumps and controlled with split valves involving two control valves with overlapping flow ranges.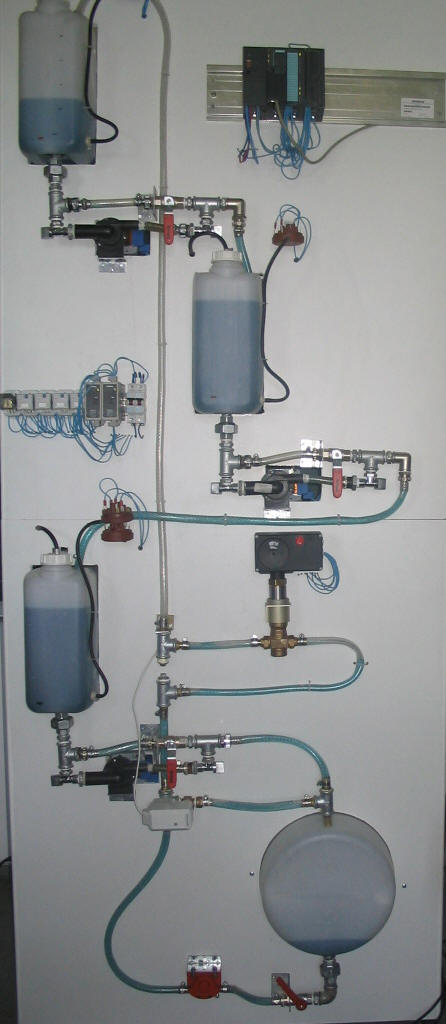 The following screen created with WinCC HMI software package shows the interface with this test stand, used for testing various control strategies and algorithms.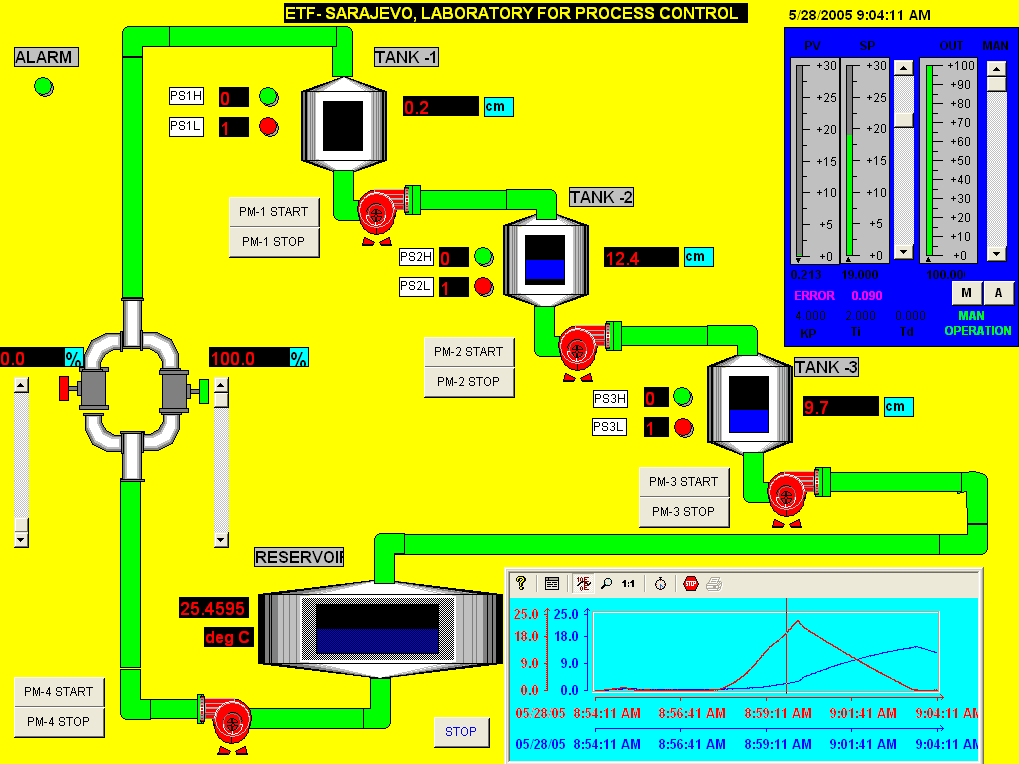 In order to transfer these screens to remote operators either in local area network [ LAN] ,or over the Internet , the Siemens WinCC add -on OPC Server driver was utilized to send all process tags to other HMI softwares ( Indusoft- IWS and Iconics Genesis32), which were configured as OPC Clients, installed on one PC node with connections both to LAN and Internet ( see the following block diagram). Indusoft IWS HMI ( Courtesy of Indusoft USA ) and Iconics Genesis32 software were configured with all process tags coming from WinCC, e.g. from PLC S7-300, connected to it and installed on pilot plant in the Automation and Control Laboratory.
IWS-Studio and Genesis32 HMI software packages are in the same time acting as Web Servers , enabling thin clients ( e.g. users with Internet or Netscape explorers only) to access all configured screens, either locally within the Faculty Intranet network , wireless LAN, or by any user over Internet, and sending and receiving SMS messages on current process data and alarms.
Send SMS to +38761143479 Click to access from Internet(IWS) Click to acces from Internet (GENESIS)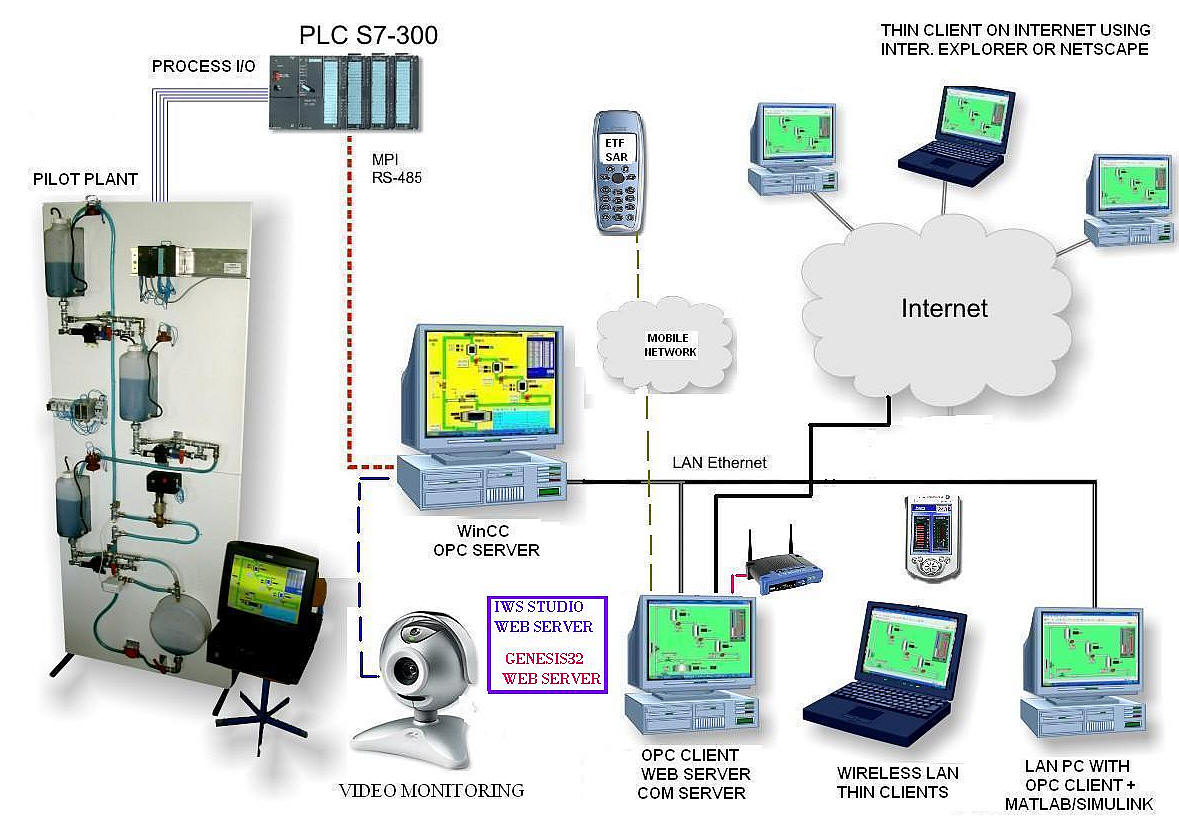 Click to access video monitoring from Internet Click to access from ETF Intranet(IWS)
To access the WEB application using thin client ( Internet Explorer ) either in IWS-Studio or GENESI32 use the following
login data:
Username : Guest
Password : Guest
The main screen that will open in IWS HMI software should look like the following one: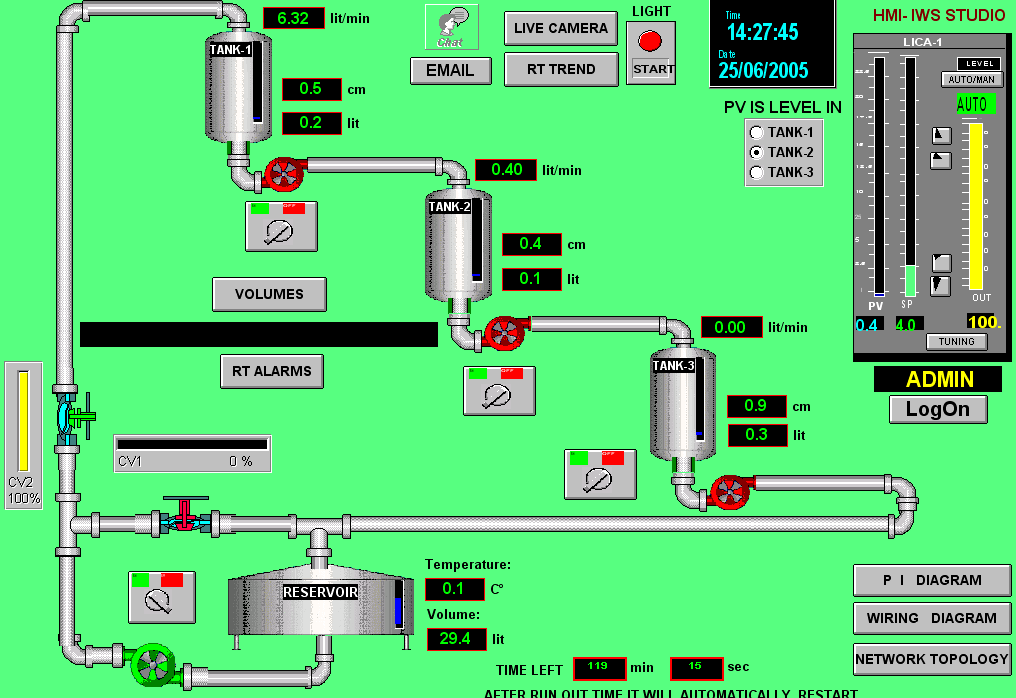 and if link was selected to Web application connected to pilot plant and PLC S7-300, created in Iconics Genesis32, the opening
main screen should look like the following one: